Reinvent…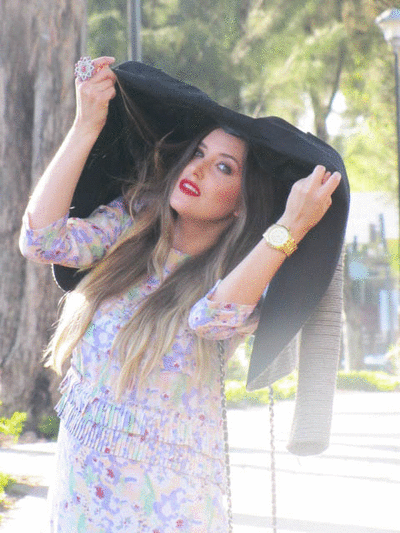 El otro día estaba de blog en blog cuando de repente me encontré una entrevista de Andy de Stylescrapbook diciendo que "ella nunca volvía a usar el mismo outfit". Mi primera reacción fue algo así como ¿Es broma? ¿Quién logra eso? Y bueno le seguí dando algunas vuelvas al asunto, nose porque, pero me pareció una excelente idea. No creo que exista mejor forma de aumentar la creatividad y aunque aveces te pueda gustar más un outfit que otro ayuda a probar cosas nuevas (aciertes o no) y hace que te reinventes a ti mismo, como a tu closet. Me gusta además que ella habla de los outfits y no de prendas en especifico, porque hay que ser honestos, por eso nos gustan los blogs de moda, porque nos dan ideas de como usar cosas que ya tenemos de otra forma y sobre todo me gusta eso de los blogs que no todo son cosas incomprables, sino cosas que podemos sacar de nuestros closets o tomar la idea y aplicarla a nuestra manera. Por lo menos es lo que yo trato de hacer aquí, no crear un espacio para sentirnos mal por todo lo que no tenemos, sino vernos increíblemente bien con lo que tenemos. Bueno toda esta historia para decirles que abrí un mail de my philosophie así que lo que quieran preguntarme o decirme ahí esta! es my-philosophie@hotmail.com
-Me voy a San Miguel el fin, pasenla increíble!!
The other day I read a interview Andy from Stylescrapbook that said that "she never wears and outfit twice" and I thought "nah really? I don't think anyone can do that!" But then I thought about this more and thought that it's a great idea to give it a try, it keeps your creativity moving and even if you like and outfit more than another it's great to try to do different things, reinvent yourself. And I also love that she's talking about an outfit and not a piece of clothing, cause let's be honest we love fashion blogs for that, for giving us ideas of how to wear things but not unaffordable things, things we can do with real clossets. At least is what I try to do here, not make us feel bad about ourselves thinking about all the things that we can't afford, but to look great with what we have, and make the must of it! Also I wanted to tell you that I opened a mail for My Philosophie and you can write me with any concern or question, well anything that you like! Is: my-philosophie@hotmail.com
-I'm off to San Miguel Allende, have a great weekend!
November 4th, 2011
Guadalajara